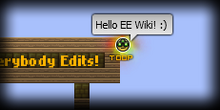 Toop (real name UNKNOWN) is one of the five administrators. Toop is the Lead Graphics Designer and is responsible for making items since the Autumn Update in 2014. Toop registered to Everybody Edits on June 17, 2011, 8:11 PM GMT, yet admits to have lurked as a guest since April 2011.[1]
Community
Edit
Toop is active in the community, discussing update ideas and listening to user feedback both ingame and on the official and unofficial forums. Toop is responsible for organizing the Loading Screen Contest in February of 2015, and also the Spring and Summer contests in 2016.
This user has also created some levels with his friend Badoosh, and is currently developing new update worlds.
Possible future additions to the game mentioned by Toop
Edit
Because Toop is so active in the community, he has told us some of his update ideas, including some of the following:
Seeing if it is possible to get artist added to the energy shop.
Remaking the tutorials.
Doing something about classic items.
Possibility of redesigning of lobby in Unity.
This anagram "stormy coiled" probably means something.
Toop also confirms having some long term plans for smileys and blocks.
65References
Edit
↑ http://everybodyedits.wikia.com/wiki/Toop?diff=17713&oldid=17692 - User:TOOP on this Wiki, confirmed to be actually Toop - wrote this
Ad blocker interference detected!
Wikia is a free-to-use site that makes money from advertising. We have a modified experience for viewers using ad blockers

Wikia is not accessible if you've made further modifications. Remove the custom ad blocker rule(s) and the page will load as expected.