R42Bot++ is an open-sourced bot for Everybody Edits.
This bot has been created by marcoantonimsantos who was called realwizard42 in the old Everybody Edits 2..
This bot's team is only marcoantonimsantos and legitturtle09 that was a' 'moderator in EE2, but, he doesn't do much more than help.
R42Bot++'s source can be found here: https://github.com/realmaster42/R42Bot
Incredibly, this bot supports both Windows XP and Windows VISTA.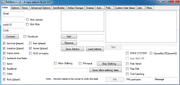 Ad blocker interference detected!
Wikia is a free-to-use site that makes money from advertising. We have a modified experience for viewers using ad blockers

Wikia is not accessible if you've made further modifications. Remove the custom ad blocker rule(s) and the page will load as expected.