Platform Sandbox
is the earliest known version of Everybody Edits. It lacks many features that Everybody Edits has, and instead of multiple levels it is just one big one, allowing only 45 players. It purges whenever there is nobody left on the game. As of September 7, 2010 it is still supported, though few are ever on it at a time.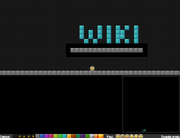 It is impossible to hold down the mouse button and edit in Platform Sandbox as it is in free worlds.
The blocks were the eraser, gravity arrows and dots, basic, brick, metal, and original black brick.
The original 6 were:
Smiley
Grin
Tongue
Happy
Annoyed
Sad
Later on in the game, these were made into Guest smileys, Guests only get these six, but members got these six and other smileys they obtained through the Energy Shop.
The physics of this game is entirely different from Everybody Edits 0.6x. Before the update, one could notice:
Slower acceleration
Less friction
Bigger zero-gravity dots
Ad blocker interference detected!
Wikia is a free-to-use site that makes money from advertising. We have a modified experience for viewers using ad blockers

Wikia is not accessible if you've made further modifications. Remove the custom ad blocker rule(s) and the page will load as expected.