Oliver (real name same) was a Everybody Edits moderator, he was one of few 'secret' moderators to be found.
He was first seen in a world having an orange moderator colour name and posted about on the EE Forumify  forum. Oliver is no longer an active Everybody Edits moderator due to inactive.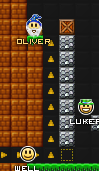 Ad blocker interference detected!
Wikia is a free-to-use site that makes money from advertising. We have a modified experience for viewers using ad blockers

Wikia is not accessible if you've made further modifications. Remove the custom ad blocker rule(s) and the page will load as expected.