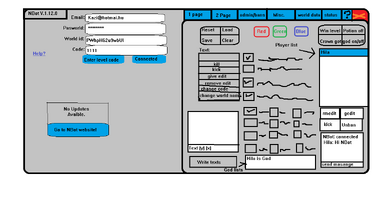 NBot is a popular command bot made by Nvd.
Bot Commands
Edit
!save
!reset
!load
!clear
!gedit #username#
!redit #username#
!kick #username#
!god on/off
!key r/b/g
!say #command#
!name #worldname#
!write #text# #y# #x#
!snake speed massange
Ewoke
Lpeugliot9
Jesse
Doh
- Fixed compatibility with Windows XP and Windows Vista
- Bot is now available to download as .ZIP
- Added option to kick ninjas and robbers.
- Fixed several bugs.
- Added expandable connection panel.
- Added Armor Games support.
- Optimized updating system
- Optimized more stuff

* Bugfixes, bugfixes and bugfixes...
+ Added EEArtist
+ Something else (lol find it out)

* Bugfixes, bugfixes and bugfixes...
[3]EEArtist Patch
[3]SINCE 1.12.4 YOU WILL HAVE TO REGISTER AGAIN FOR SECURITY REASONS.
[4]New and improved things:
+ Added Sapphire Ore to Digbot
+ Added Copper Ore to Digbot

* Improved Digbot ore spawn rate
* Improved NBot's ban system
[5]Yay! Some bug fixes and some new things! And the bug we were all waiting for is fixed! HOORAY :D
New and improved things:
+ Added 3 new suicide messages.
+ Added delay option for world filling.
* Fixed crash at world filling.
* Fixed that admins can kick theirselves.
PC Requirements:
- Windows 7+
- .NET Framework 4.5+
NOTE:
Ethans joined as employee for NBot.
He makes new ideas and report them to Nvd.
If you have any ideas report them to Ethans, not to Nvd.
References
Edit
Ad blocker interference detected!
Wikia is a free-to-use site that makes money from advertising. We have a modified experience for viewers using ad blockers

Wikia is not accessible if you've made further modifications. Remove the custom ad blocker rule(s) and the page will load as expected.