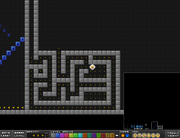 A Maze is a type of puzzle used in maps. They can be either small (Like in the picture) or cover the entire world. On the latter, many players choose to use black bricks for the walls of the maze to prevent players from looking at the minimap to find a way. Also on full-screen mazes, there is often a reward at the end, much like other worlds with many puzzle types that also cover the whole world.
---
Ad blocker interference detected!
Wikia is a free-to-use site that makes money from advertising. We have a modified experience for viewers using ad blockers

Wikia is not accessible if you've made further modifications. Remove the custom ad blocker rule(s) and the page will load as expected.