The main lobby is the lobby of Everybody Edits. It shows your energy, picture of your smiley, your max energy, your gems, the news page, worlds, your worlds/world, your items and smileys, your friends, the energy shop and a little shop showing the new items and the items you are working at.It also shows how many are in each level at a time, and as of July 20, 2010 it shows how many people have played a certain level. It contains a link to the official EE Twitter as well. It used to feature a button to donate money, and a facebook connect button.
The lobby has been reworked several times. On May 10 2010 full rooms were moved to the bottom of the room list. On June 10 2010 an in-game appeal to add blue coins was added and later removed. Two days later a link to the official EE Twitter was added. On June 30 2010 all rooms with more than 39 people were moved to the bottom of the room list.
On June 21, 2011, the lobby got re-designed by Peter, also known as SBEAM ingame.
On December 15, 2014, the lobby got updated to it's current state: christmas-themed.
Criticism
Edit
The main lobby has been criticized for
the lobby boot glitch.
It has been criticized for needing to refresh the page or enter and exit a room to see changes to the lobby. A refresh button has been added to solve this problem.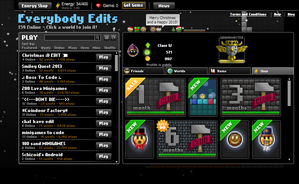 Ad blocker interference detected!
Wikia is a free-to-use site that makes money from advertising. We have a modified experience for viewers using ad blockers

Wikia is not accessible if you've made further modifications. Remove the custom ad blocker rule(s) and the page will load as expected.