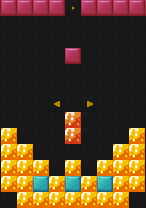 The MFL Special 2 was invented by MFL and used as the last challenge in the map MF Levels 10. It's essentially a hook jump with outward gravity arrows on either side of the base platform, which means a pixel perfect jump is required to make it to the upper block. It has only been used once (at the time this article was written), although it will likely be used more often once creators see it here. This used to be very difficult, but the new physics engine made it much more easier.
The way players jump along the arrows is similar to the high jump, except that the arrows may push players off if they jump too late or too soon.
---
---
Ad blocker interference detected!
Wikia is a free-to-use site that makes money from advertising. We have a modified experience for viewers using ad blockers

Wikia is not accessible if you've made further modifications. Remove the custom ad blocker rule(s) and the page will load as expected.