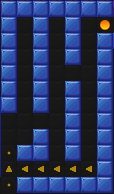 The MFL Special is an extremely difficult challenge that forces the player to jump up from a confined space to a higher platform. Due to the fact that there is a block directly above the player, a successful jump requires absolute pixel perfection, and can take countless tries in one sitting. The name "MFL Special" comes from EX Crew member MFL, who almost always included this particular challenge at the end of his MF Levels as a bonus challenge. The image depicts a much harder version of the MFL Special, since it's essentially two of them in a row. A variation of the MFL Special uses a hook jump setup where the player must jump to a block directly above instead of to the left or right.
It is not recommended to use this challenge in a map unless it's optional due to its extreme difficulty, similar to the one-block hook jump.
---
---
Ad blocker interference detected!
Wikia is a free-to-use site that makes money from advertising. We have a modified experience for viewers using ad blockers

Wikia is not accessible if you've made further modifications. Remove the custom ad blocker rule(s) and the page will load as expected.