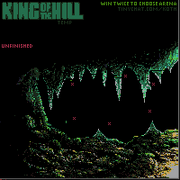 King of the Hill FFA is a boss level created with EE Animator. It originally had a huge picture of a girl on it, but now you boss inside a big cave. There are many different boss rooms and if you win a boss twice, you get to pick which room to play in. This version of the level is only temporary. The level is run by the user "koth." (King Of The Hill)
Ad blocker interference detected!
Wikia is a free-to-use site that makes money from advertising. We have a modified experience for viewers using ad blockers

Wikia is not accessible if you've made further modifications. Remove the custom ad blocker rule(s) and the page will load as expected.