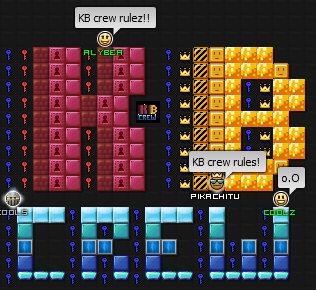 KB crew is a crew that alybea started.
KB crew was formerly star crew.
Member(s): 272, coolz (cools), ak????, kinglagalot and others 
Leader(s): Alybea
Co-leader(s): Pikachitu :D
Absentee leader(s): coolz/cools
Levels: KB crew rage tree and KB crew city night. More are being made
Announcements
Edit
KB crew city night has been made.
cools is the new absentee leader.
syko blaze got kicked.
Pikachitu is dismantling the crew until furthery notice of alybea or cools.
Ad blocker interference detected!
Wikia is a free-to-use site that makes money from advertising. We have a modified experience for viewers using ad blockers

Wikia is not accessible if you've made further modifications. Remove the custom ad blocker rule(s) and the page will load as expected.